ClickPulse is a powerful metric designed to measure and communicate the quality of a single click within an advertising campaign. It condenses various performance indicators into a single value, ranging from 1.0 to 10.0, with 1.0 representing the lowest rating and 10.0 signifying the highest rating.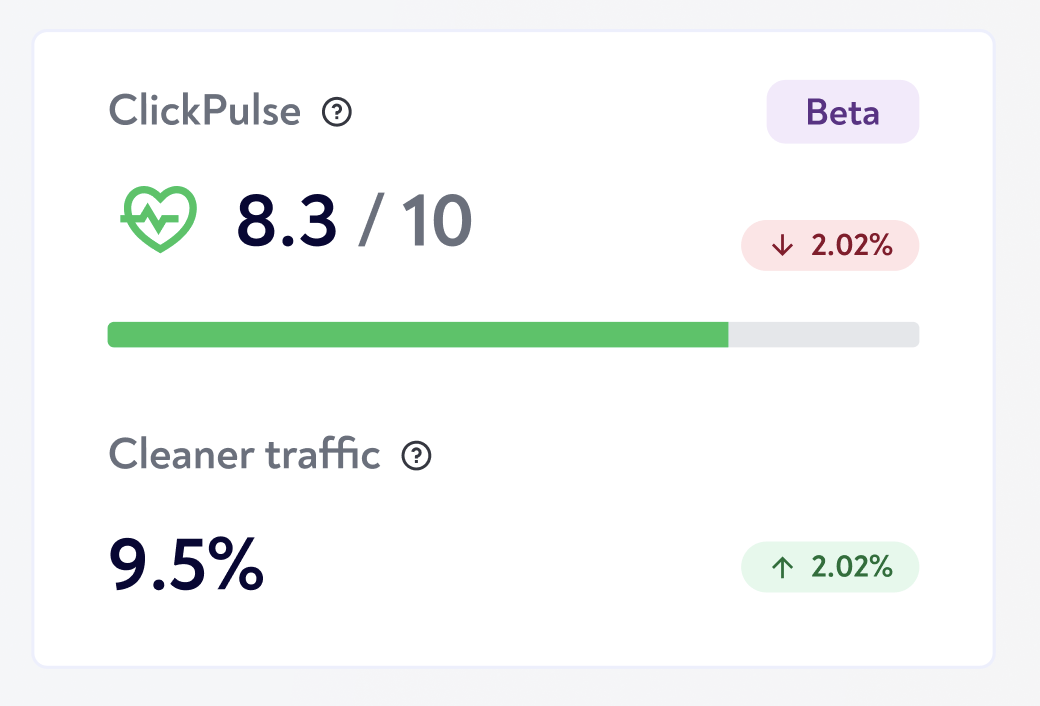 By assessing multiple metrics and calculating a weighted average, ClickPulse enables advertisers to gauge the effectiveness of their ads and make informed decisions to optimize their campaigns.


Metrics Used in ClickPulse Calculation
ClickPulse incorporates several metrics, each contributing to the overall score. The most important are:
Click Status: This metric reflects the status of a click and assigns a grade accordingly.
Repeated Clicks: The number of repeated clicks impacts the score.
Bounced: This metric indicates whether a user immediately left the website after clicking the ad.
Converted: This metric assesses whether a click resulted in a desired conversion.
Threat Level: The threat level associated with a click impacts its grade. A lower threat level corresponds to a higher grade and a higher threat level to a lower grade.
Time on Site: The duration of user engagement on the website influences the score.
Page Views: This metric considers the number of page views resulting from a click.
IP Usage: This metric evaluates the type of IP address associated with the click
User Interaction: This metric assesses the level of user interaction on the website. Higher levels of interaction yield better grades
Bot Probability: This metric estimates the likelihood of a click being generated by a bot. A higher bot probability level results in a lower grade
Geolocation: This metric identifies whether the clicks originate from the configured targeted location
Calculating ClickPulse
To determine the ClickPulse score for a click, all the aforementioned metrics are individually scored on their respective scales. These individual scores are then combined using a weighted average calculation. The weights assigned to each metric can be adjusted based on the importance assigned to that metric.


Updating ClickPulse
ClickPulse is not a static metric and can be updated over time as new data becomes available. Regular updates ensure that the metric remains accurate and relevant, allowing advertisers to adapt their strategies accordingly.
In conclusion, ClickPulse is a comprehensive metric that provides advertisers with a concise assessment of click quality. By aggregating multiple metrics and applying a weighted average calculation, ClickPulse enables advertisers to measure the effectiveness of their campaigns and make data-driven decisions to optimize their advertising efforts.